The S. Maria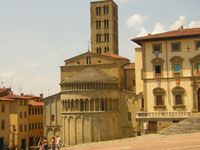 This interesting structure in the Romanesque style is going from San Francesco along the way. Tourists will be able to admire one of the most beautiful architectural structures in Tuscany dating back to the twelfth century.
The beautiful arched facade stands out immediately in the eyes and recalls, although his style developed and severe, style and Pisa in Tuscany general of the western. Done particular is the position where the church stands, in a narrow and narrow rather than in a large square in the main square of the city.
On the portal of the church are clearly visible statues of months, dating back to 1210, giving liveliness and special structure, leaving the tourists in a vortex of mystical sensations while the tower named "Tower of the hundred holes," added the fourteenth century, stands out imposing forcing tourists in un'ammirazione almost obligatory.
Inside the church, you notice immediately raised the tabernacle, the oldest part of the structure, characterized by the altar with the polyptych di Pietro Lorenzetti: "Madonna and Saints", a painting of 1310 restructured in a way not impeccable .
On the left we see the holy bishop of Arezzo, San Donato, martyred after the invasion of Goths in a return of paganism. The relics are kept in a magnificent bust in gold and silver in the crypt. The bust dates from the fourteenth century, the work of an unknown Jewelry Arezzo.
Piazza Grande
Located on the other side of the church, this is nice but not very functional square, slightly tilted towards the fountain. This beautiful square is thin, but still worth a visit for at least relax and enjoy a good ice cream day in the summer. The square is full of life during the Antiquarian Fair and the day of the Saracen Joust , Held the first Sunday in September.
Information for tourists
Pieve di Santa Maria
Admission: Free
Open daily: 08:00 - 12:00 / 15:00 - 19:00