Holidays in Arezzo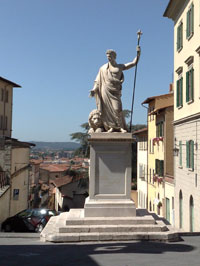 For the tourist who decides to spend their holidays in Arezzo, we have decided to create a portal in which they will find useful news and information to spend an unforgettable stay.
To get to know the multifaceted face of the area around Arezzo it is necessary to immerse yourself in the uncontaminated nature of the more than six hundred kilometers of trails, walking routes and bike itineraries that run through the four areas of the province of Arezzo: the Casentino , Valdarno , Valtiberina and Valdichiana .
In an environment rich in cultural, historical and artistic traditions, tourists are offered the opportunity to experience nature in hotels, hotels and residences typical of these splendid corners of Tuscany.
Art, History and Culture
Information on the history of Arezzo , a journey into art inside the churches of Arezzo and the Cathedral of Arezzo , the Pieve di S. Maria and the Basilica of S. Francesco . Advice on the Museums of Arezzo , the House of Giorgio Vasari and the Medici Fortress .
Arezzo and its surroundings, itineraries and excursions in Tuscany
Your holidays in Arezzo , Sansepolcro , Cortona , Monterchi . Book at the best hotels and organize your holiday in Casentino , Valdarno , Valdichiana and Valtiberina . We have prepared the best tourist itineraries for tourists on holiday in Arezzo: San Giovanni Valdarno and Cortona , The colors of the Valdarno , the Valdichiana and the Setteponti .
Hospitality and relaxation
A list of the best Hotels , Bed and Breakfasts , Agritourisms and Campsites . In addition, the best restaurants in Arezzo where you can taste the typical dishes of Tuscany .
Parks and Nature
Choosing Arezzo as a destination for your holidays also means excursions and nature: there are numerous itineraries in the Parks of Arezzo , the National Park of the Casentine Forests , the Valle Inferno and Bandella , the Upper Tiber Valley , the Sasso di Simone , Ponte Buriano and Penna , Bosco di Montalto , the Rognosi Mountains and the Alpe della Luna .
Shopping and Gastronomy
For the tourist who is on holiday in Arezzo, we have prepared a list of the best restaurants in Arezzo , to taste the flavors of typical Tuscan dishes. Alternatively, tourists can choose from the numerous ethnic restaurants in Arezzo. For cheap shopping and shopping, tourists can visit the numerous outlets in the Arezzo area.