Tourist route on foot to discover the beauty of Arezzo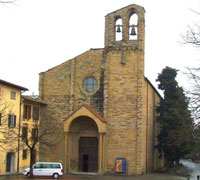 One of the steps required for the tourist who chose Arezzo as their vacation destination is the Basilica di San Francesco, where Piero della Francesca painted one of the finest masterpieces ever created: The Legend of the True Cross, completely renovated in 2000, today you can admire it in all its splendor.
After visiting the basilica recommend a trip to visit the center history of this small medieval town. Right away you find that you are immersed in an atmosphere poised between the Middle Ages and the Renaissance. Between the station and Piazza Monaco take the small climb leading to Piazza San Francesco, dominated by the austere facade dell'omonima church. This square is the meeting place of all the tourists, where you can enjoy delicious local dishes in the restaurant front and visit the ancient wine cellar, dating back to the fifteenth century, built over a Roman road.
The square is the starting point for the Antiques Fair, which since 1968, every first Sunday of the month and the preceding Saturday, attracts thousands of tourists and fans from around the world, filling the streets to Piazza Grande. Crossing via Cavour and continuing into Via XX Settembre it comes to home Giorgio Vasari, a famous painter and architect born in Arezzo in 1511 that created many important works, such as Le nozze di Ester and Assuero, painting kept in the State Museum of Medieval and Modern Art.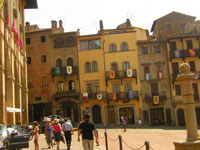 Continuing along Via XX Settembre will find many places to linger, the Church of San Domenico, in the square, with inside the extraordinary Cimabue Crucifix. After a few steps on the left will arrive in Piazza Duomo, where you are in front of the beautiful Cathedral of Arezzo, one of the most expensive to Arezzo. Inside the Madonna is kept of comfort, the subject of devotion especially during the Saracen Joust .

From Piazza Duomo can be reached via Grande because of the Pillar, where tourists can admire the magnificent Palazzo Pretorio. The square buys a theater scenery and mysterious thanks to the great parish church that dominates the front of buildings patricians battlements and towers, all on an irregular and inclined. In the square you can find everything from shop to restaurant typical leather.
After a stop in this wonderful square route continues along Corso Italia, the shopping street, where tourists can really find everything from a souvenir items for the home and garden.
Here tourists can enjoy a dinner in one of the many restaurants that populate this area, then you reach Piazza San Francesco, where our ending the tour.
Cafes and restaurants to Arezzo
Coffee Course
Corso Italia, 210 Arezzo
Tel. 0575 20320
Antica Osteria the Agana
Via Mazzini, 10 Arezzo
Tel. 0575 295381
The restaurant 3 cups
Above the square Bridges, 3, 4, 5 Arezzo
Tel. 0575 26557
Restaurant Logge Vasari
Piazza Grande Arezzo
Tel. 0575 295894
Ristorante Buca di San Francesco
Via San Francis, Arezzo 1
Tel. 0575 23271

Photo Album of Arezzo