Holidays in Cortona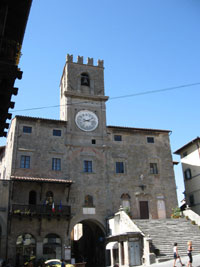 Cortona is a typical hill resort of Tuscany, from which tourists can enjoy a wonderful panorama: it sees the whole Valdichiana , Surrounded by hills and Cetona of beloved. All this is reflected in the beautiful Lake Trasimeno.
There are several sites that allow tourists to admire this magnificent panorama, the fortress, the walking public square S. Margaret and square Garibaldi.
Characterized by a mild climate, despite its 500 meters of altitude, is the ideal place for the winter season, while the summer in Cortona is the ideal place for tourists seeking a cool and air clean and transparent.
Cortona offers numerous opportunities for tourists to spend pleasant hours of relaxation and fun in its squares, full of life and meeting place for young people. Of the three main squares, Piazza della Repubblica is the most living here are the best restaurants in Cortona and more concentration of life for young stairs of the Palazzo Comunale. If you intend to visit in Cortona weekend, you can not miss the Saturday flea market in Piazza Signorelli, which is located near the Etruscan Museum, one of the biggest attractions of the city. Another place worth a visit is the Diocesan Museum, in Piazza del Duomo.
Through the narrow streets of the city will reach the high Medici fortress, where You can see in the distance a beautiful landscape, with small villages in the distance perched on the hills gives tourists a sense of magic and chivalrous. From the fortress you can reach the beautiful churches of San Nicholas and San Domenico.
What visit to Cortona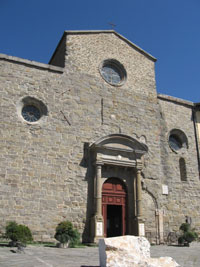 Museum of the Etruscan
Diocesan Museum
Duomo
The city high
Chiesa di San Domenico
Church of Santa Maria delle Grazie to Calcinaia
Food & Drink in Cortona
A Cortona tourists can give vent to his culinary tastes without spending a fortune and at the same time enjoy the typical Tuscan flavors, rich in tradition and culture.
In both cities are located restaurants for lunch and fast as the hand bruschetta local meats and cheeses Tuscan restaurant menu is more substantial, with rich dishes such as soups, appetizers of the house and first lick from a mustache. Can not miss the good Tuscan wine.
Useful information for tourists on holiday in Cortona
Tourist Information
Via Nazionale, 42
Phone: 0575 630 352
Orai summer: from Monday-Saturday 09:00-13:00 / 15:00-19:00. Sunday 09:00-13:00
Hours winter: Monday to Friday 09:00-13:00 / 15:00-18:00. Saturday 09:00-13:00
Getting to Cortona
Cortona can be reached easily from Arezzo with LFI bus departing every hour and trains that stop at the station-Shirt Cortona. A shuttle every 30 minutes, leading from the station to the historic center (6 km).
For those traveling by car instead, we recommend I park in Market Square, Piazza Mazzini and Garibaldi Square as the center is closed to traffic.

Cortona photo album