The Cathedral of Arezzo
At the top of the city, at the highest point of the Arezzo hill, stands the cathedral, imposing and sober in its spectacularity. Its harmonious appearance is the result of a construction process that began in 1278 and ended in the early 16th century. In more detail, however, the bell tower dates back to 1859 and the facade to 1914.
From the inside you can see the beautiful stained glass windows , a real rarity in the Italian panorama, these were made by the French artist Guillaume de Marcillat residing in Arezzo. The windows let in a faint light that makes it almost impossible to admire the paintings on the first three bays of the nave.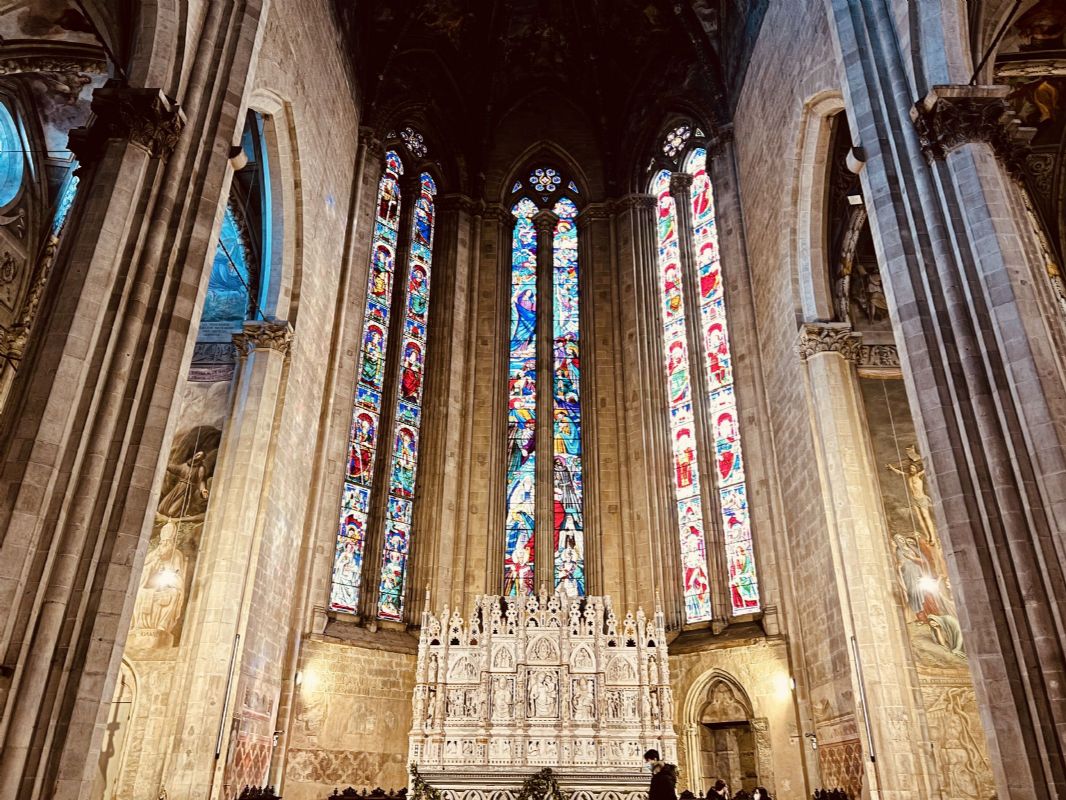 Tourists have the opportunity to admire the splendid terracotta of the Della Robbia family, kept in the Chapel of the Madonna del Conforto , separated from the central nave by an enormous barrier.
Continuing along the central nave, a little further on immediately after the organ, is the most important work: the tomb of Bishop Guido Tarlati , who led the Municipality of Arezzo to its rebirth at the beginning of the fourteenth century. The tomb is decorated with marble reliefs, attributed to Giotto, which illustrate the life and military career of the Bishop. On the right side of the tomb, the tourist can admire the small fresco representing the Magdalene, made by Piero della Francesca, the only work done by the great painter outside the parish church of San Francesco .
From the side of the cathedral you enter the Passeggio del Prato , the public park of Arezzo which leads to the Medici Fortress , located at the end of the park. It represents the ideal place for a stop and admire the splendid panorama over the city and the vineyards of the Casentino . Only the ramparts remain of the fortress, as it was demolished in the 18th century.
Continuing south of the cathedral and the park, the tourist can visit Petrarch 's birthplace, rebuilt after the war, where it is possible to admire the library with original manuscripts and letters.
Useful information for tourists
Diocesan Museum
Hours: Thursday to Saturday 10:00 - 12:00
Petrarch's house
Hours: Monday to Saturday 10:00 - 12:00 / 15:00 - 17:00
Free entry
The Parish Church of Santa Maria
Duomo di Arezzo