Holidays in Monterchi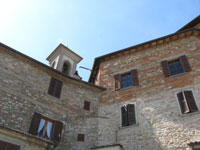 The agricultural town of Monterchi is located 25 km east of Arezzo. Certainly represents for the tourists an alternative for their vacation nell'aretino. Starting from Arezzo, about 5 km from Monterchi cross the signs indicate that the painting that made this city famous throughout Italy: the Madonna del Parto. This is the Renaissance fresco representing the Madonna with child.
The painting was created for the chapel a cemetery on the outskirts of Monterchi, brought to light in 1889. Were lost instead two other paintings by Piero della Francesca: Saint Lucia and La Pieta.
The country of Monterchi stands on a secluded hill, dominated by a view across the valley, making Monterchi an enviable city landscape, characterized by ancient medieval churches and monasteries. The tourists can venture into the city's historical center, where you can see again Its medieval mold, despite the destruction caused by several earthquakes.
Along the walk, stand out many local shops and characteristic, ideal for a break or lunch in the hot summer days, laid cuddled local citizens.
In the summer, Monterchi comes alive with concerts of classical music, organized in the garden of the Madonna del Parto, where tourists can relax with good music in a typical characteristic of the area.
Tourists will not be disappointed ranging from local food, valued kitchen of the many high points of rest and restaurants located on the streets of the country to welcome tourists in a unique and characteristic. Certainly no shortage of events of great gastronomic point, as the famous "Sagra della Polenta", an event now sets the stage more renowned gourmet, which annually attracts hundreds of tourists.
Tourists who decide to visit Monterchi can book one of the many hotels and bed and breakfast available. Indeed recommend staying at least 2 days to fully enjoy the beauty that characterize this village shines: Palaces, Castles and Villas await tourists eager to see the places of Piero della Francesca.