Photo: Art, History, Culture
Last News
title="GIOIELLO IN VETRINA' LA FIERA ANTIQUARIA DI AREZZO SI ACCENDE DI RIFLESSI D'ORO::GIOIELLO IN VETRINA' LA FIERA ANTIQUARIA DI AREZZO SI ACCENDE DI RIFLESSI D'ORO">GIOIELLO IN VETRINA' LA FIERA ANTIQUARIA DI AREZZO SI ACCENDE DI RIFLESSI D'ORO title="[A-stràt-to]::[A-stràt-to] mostra a cura di Tiziana Tommei">[A-stràt-to] title="Pastificio Elettrico::Pastificio Elettrico - un evento per il giorno 14/04/2017 ad Arezzo.">Pastificio Elettrico
Advertising
The Cathedral of Arezzo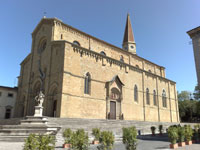 At the top of the city, the highest point of Arezzo hill, stands the cathedral, an imposing and sober in its spectacular. Its smooth appearance is the result of a process of construction that began in 1278 and ended in the first period of the sixteenth century. In more detail, however, the bell tower dates back to 1859 and the facade to 1914.
From inside you can see the beautiful stained glass, a real rarity in the Italian panorama, they were built by the French resident in Arezzo Guillaume de Marcillat. The windows are entering a feeble light that makes it almost impossible to admire the paintings on the first three bays of the nave.
Tourists have the opportunity to admire the beautiful terracotta of Della Robbia, kept in the Chapel of Our Lady of Conforto, separated from the nave by a huge transenna.
Continuing along the central aisle, just ahead soon after the body is the most important: the tomb of Bishop Guido Tarlati, who led the town of Arezzo to the revival at the beginning of the fourteenth century. The tomb is decorated with marble reliefs, attributed to Giotto, that illustrate the life and military career of Bishop. On the right side of the tomb, tourists can admire the small fresco that is the Maddalena, undertaken by Piero della Francesca, the only work by the great painter outside the parish church of San Francesco .
From the side of the dome on access to Passeggio lawn of the park in Arezzo leading up to the Fortezza Medicean , Located at the bottom of the park. It represents the ideal place for a break and enjoy the splendid panorama of the city and the vineyards of Casentino . Of the fortress remain the bastions only because it was demolished in the eighteenth century.
Continuing south of the cathedral and the park, tourists can visit the birthplace of Petrarch, rebuilt after the war, where you can admire the library with original manuscripts and letters.
Useful information for tourists
Diocesan Museum
Hours: Thursday through Saturday from 10:00 a.m. to 12:00 p.m.
Admission: 2.60 euros
Casa del Petrarca
Hours: Monday to Saturday 10:00 - 12:00 / 15:00 - 17:00
Admission: Free
The content of the page is automatically translated.
Rate: 3.0 | Comments (0) | Write Comment