Last News
title="GIOIELLO IN VETRINA' LA FIERA ANTIQUARIA DI AREZZO SI ACCENDE DI RIFLESSI D'ORO::GIOIELLO IN VETRINA' LA FIERA ANTIQUARIA DI AREZZO SI ACCENDE DI RIFLESSI D'ORO">GIOIELLO IN VETRINA' LA FIERA ANTIQUARIA DI AREZZO SI ACCENDE DI RIFLESSI D'ORO title="[A-stràt-to]::[A-stràt-to] mostra a cura di Tiziana Tommei">[A-stràt-to] title="Pastificio Elettrico::Pastificio Elettrico - un evento per il giorno 14/04/2017 ad Arezzo.">Pastificio Elettrico
Advertising
Companies reported in Arezzo
La Bottega d'Arte Toscana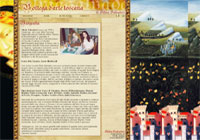 La Bottega d'Arte Toscana Silvia Salvadori has as its objective the recovery of sacred medieval and Renaissance through the development and reproduction of works of art second Cennino Cennini handed down from his book "Paper of the art".
Works like the Madonna of Crevole and Madonna di Duccio di Buoninsegna, the Annunciation by Simone Martini, the Madonna and Child by Pietro Lorenzetti are just some of the works that Bottega d'Arte Tuscany can achieve at the request of the client, even with special customizations.

Bottega d'Arte Toscana
Via Bicchieraia, 24 - 52100 - Arezzo
Telephone: +39 0575 28457
www.bottegadartetoscana.it
The content of the page is automatically translated.
Rate: 0.0 | Comments (0) | Write Comment